Last Updated on
My Kratom Canada is a new kratom vendor focused on selling the leaf as raw material. On their site they offer raw powder in different colour strains, as opposed to specific lineages. We ordered from My Kratom Canada to test their product and we were not disappointed! They ship quickly from west coast Canada across the country. All of their strains are lab tested to ensure they are pure and high quality grade.

My Kratom Canada Review
Ordering
My Kratom Canada makes ordering very easy. The main reason is they don't offer specific strains, but only red, green, white or blended vein powder. The website is very straightforward and easy to order from. You can checkout without signing up, or choose to become a member for additional perks. They also offer same day shipping on orders received before 2 PM EST.
Packaging: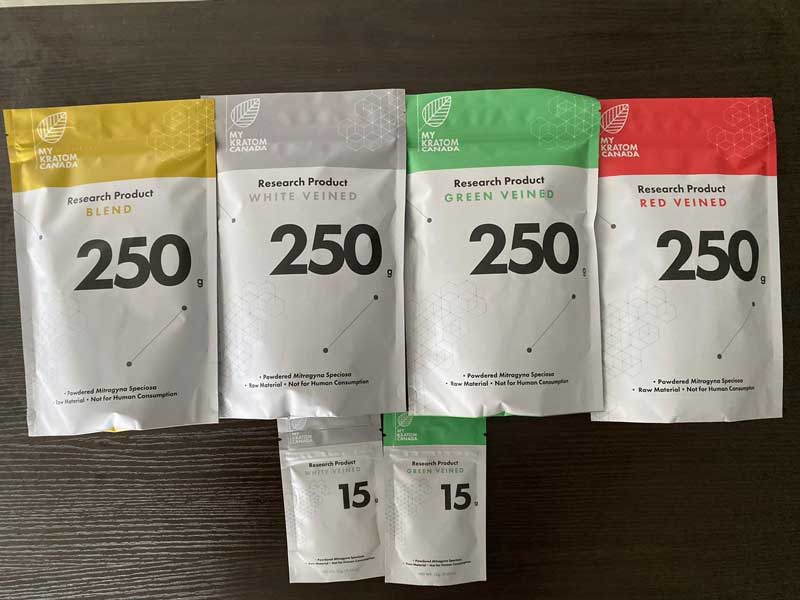 As you can see, the packaging is very professional. MKC uses food grade packaging which is vacuum heat sealed to keep it fresh as long as possible. With heat sealed packaging, you can be guaranteed the product hasn't been tampered with. As well, once opened the packages are resealable. It's quite easy to tell which package contains which strain as they are colour coded.
Communication:
My Kratom Canada has great customer service. They are available during the day EST-PST 7AM-7PM, you will receive a response from them quickly. Since this site is focused more on kratom availability for research, they are not like the other vendors which provide a lot of choice in their product. When we placed our order, we received notification that is was being processed instantly. Shipping itself is also very fast, depending on the option you choose. Processing time is instant. We felt very confident ordering from MKC.
Product/Price:
MKC only offers 250 gram unit increments – also only available in red, green, white or blended vein; you cannot choose Bali or Maeng Da for example. 1kg for roughly $180 is a very reasonable price for high quality kratom powder – otherwise you can get the 1kg mixed pack for $120. If you want the same strain, you just have to order in 250 gram increments. Both options are great and are a great value.
They also carry $1 sample packs, so if you are unsure what strain you need for your research, you can give each one a try for next to nothing!
We can vouch for MKC to say that the quality of their product is definitely worth the price, so if you would like to try a new vendor and price is an issue, grab the $1 sample pack to see for yourself.
Notes:
Whats the verdict on MKC? We can't recommend them enough! They offer very high quality product, perfect for research purposes as the richest amounts of active ingredients exist as opposed to lower quality kratom.
The service itself is easy to use, professional and trustworthy. We have spoken directly with their team who is very friendly. Their website also features a very useful extraction process diagram, to help you with your research.
My Kratom Canada Coupon Code:
We do not currently have a coupon code for My Kratom Canada – but they are offering 4x15g sample packs for only $1 each! Get this offer while it's still available.
–>> Visit My Kratom Canada's Website – Click Here <<–
My Kratom Canada Overall Rating
We could give MKC a perfect score, but we have to be critical of something (we want free shipping)! Ordering is a breeze, packaging is great, product is very high quality.
User Ratings (

0

Votes)